Pope Francis appoints Father Alphonsus Cullinan as Bishop of Waterford & Lismore
His Holiness Pope Francis has appointed Father Alphonsus Cullinan as the new Bishop of Waterford & Lismore.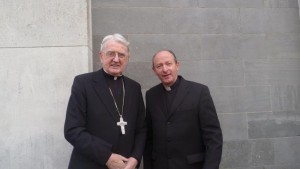 We give a most warm welcome to Bishop elect Alphonsus Cullinan. In attendance at the announcement were local parishioners; His Excellency the Apostolic Nuncio to Ireland, Archbishop Charles Brown;  Bishop William Lee, Bishop Emeritus of Waterford & Lismore; and Monsignor Nicholas O'Mahony, the Diocesan Administrator of the Diocese of Waterford & Lismore.  Please see below an overview of the life and ministry of Bishop-elect Cullinan. Life and ministry of Bishop Alphonsus Cullinan
Father Cullinan was born in Lahinch, County Clare in 1959 to Christy and Rita and has four sisters and five brothers.  Father Cullinan is a priest of the diocese of Limerick.  His family moved to Limerick city where he attended the Salesians for early education, John F Kennedy National School and the Crescent College Comprehensive (SJ) for his secondary education.  From 1978-1981 he attended Mary Immaculate College of Education Limerick and qualified as a primary teacher (B.Ed) in 1981, and taught for six years in Castleconnell, County Limerick. He worked part-time during that time for four years with the Bunratty Castle Entertainers before going to Spain where he taught English for two years in a school in Valladolid.  Father Cullinan studied at Saint Patrick's College Maynooth from 1989-95 where he completed an STL (Licentiate in Theology).  He was ordained by Bishop Jeremiah Newman in 1994 in Saint John's Cathedral, Limerick, and appointed Curate in Saint Munchin's Parish Limerick city 1995-1996.  Father Cullinan's next appointment was as chaplain to the Regional Hospital in Limerick from 1996 until 2001.  He studied for his doctorate in moral theology in the Alfonsianum in Rome 2001-2004.  Appointed chaplain to the Limerick Institute of Technology 2004-2011.   He was appointed Parish Priest of Rathkeale , County Limerick in 2011.
·         Bishop William Lee, Bishop Emeritus of Waterford & Lismore, retired on the grounds of ill-health on 1 October 2013.  Monsignor Nicholas O'Mahony has been the Diocesan Administrator of the Diocese of Waterford & Lismore since 11 October 2013.  The Diocese of Waterford & Lismore includes County Waterford, and part of Counties Tipperary and Cork.  There are 45 parishes, 85 Churches and a Catholic population of 152,107.  The patrons of the Diocese are Saint Otteran, Saint Carthage and Saint Declan  
Parish office hours
Monday to Thursday 11:00 am-05:00pm, and Friday 11:00am -04:30pm .                                 Marian and Carmel will be delighted to help with any questions you may have. Mass cards and religious objects are available for sale in the Parish Office.
Parish Pilgrimage to Rome.
Our  pilgrimage is now finished and we have returned home safely. Thank you  for remembering  all of us  in your prayers.
 THE CATHEDRAL OF THE MOST HOLY TRINITY PILGRIMAGE TO ROME,                                ASSISI & SAN GIOVANNI ROTONDO. SPIRITUAL DIRECTOR REV FR . PAUL WALDRON.
 4th—11th September 2015. €995 Per Person Sharing 7 Nights/Flight Ex Dublin.                                                               
 Further Details From: PARISH OFFICE 051—875166.
A savings club has started in the Parish Office for those who wish to travel. A number of people wish to save each week and Marian and Carmel are delighted to do this. Over 20 booked already so places are getting limited.
Day 1. Check in at Dublin for flight to Rome., where you will stay in Rome for 3 nights. Day2. Visit Basilicas of St. Mary Major's and St. John in Lateran with the near by Holy Steps. Mass in the Irish College (subject to availability). Day3. Visit St. Peter's Basilica and the nearby Shrine of the Divine Mercy.   Half-day tour of highlights of Rome to include: Colosseum, Vatican. Day4. Depart to Assisi. Visit St. Clare's Basilica and St. Francis Basilica., St. Mary of the Angels Basilica which houses the Porziuncola. Day 5. San Giovanni Rotondo, stopping at the Lanciano to visit the Church of the Eucharistic Miracle. We will continue to San Giovanni Rotondo in the Gargano area and check in for 3 nights. Day 6. Full day dedicated to St. Pio, visit cell of St. Pio, his tomb., a mass   (subject to availability) and a visit to the English office where you can obtain mass cards, petitions watch a video on St. Pio's life. Day 7. Visit to Monte St. Angelo built 650 metres above sea level, where Archangel Michael appeared, Mass (subject to availability) visit St. Matthews Shrine, kiss saints relic be blessed with holy oil, and visit nearby cemetery. Day 8. Depart for Naples Airport for return flight to Dublin .
Trinity Gospel Choir Our Trinity Gospel choir will lead us in song on the third Sunday of each month at the 12.00 noon  Mass.
Confirmation Date Confirmation  took place on May 30th., 2015 at 11 am. Congratulations to all our confirmation candidates and their families. Please remember them in your prayers.
First Holy Communion First Holy Communion took place on May 10th., 2015 at 12 noon. Congratulations to everyone concerned. Please keep our young people and their families in your prayers.
Click here to see Current Newsletter